Cabinet hardware is probably not the first thing you think of when planning a kitchen or bathroom remodel.
However, at some point after the big decisions on countertops, flooring, cabinetry, lighting, appliances and wallcoverings are out of the way, you will be faced with choosing how to open your cabinets and drawers. And even though it may seem minor, selecting cabinet hardware is a big decision, too. Think of it this way: you and your family will look at and touch those pulls, knobs or latches every day. They should reflect your tastes, match the style of the room – and last a long time.
Before this revelation revs up any indecisiveness, rest assured that the designers at Chris & Dick's are here to help. Our seasoned team of professionals has been assisting homeowners in making decisions on their home renovation projects for more than 60 years. They've put together the following tips for demystifying cabinet hardware selection.
1. Go for contrast.
While not the most obvious element in the room, hardware is allowed to sing out and be noticed. To achieve this, choose hardware that stands out by contrasting the colors with your cabinets, countertops, flooring and walls.
For example, drawer pulls with a black matte finish work great against white or cream cabinets and walls and light hardwood or plank flooring. Brushed nickel knobs—although not a new trend—are always in fashion, so pair them with dark natural or painted wood cabinets for a refreshing bit of contrast.
Think of your hardware as an accent piece, one that will complement the main elements of the room without disappearing within them.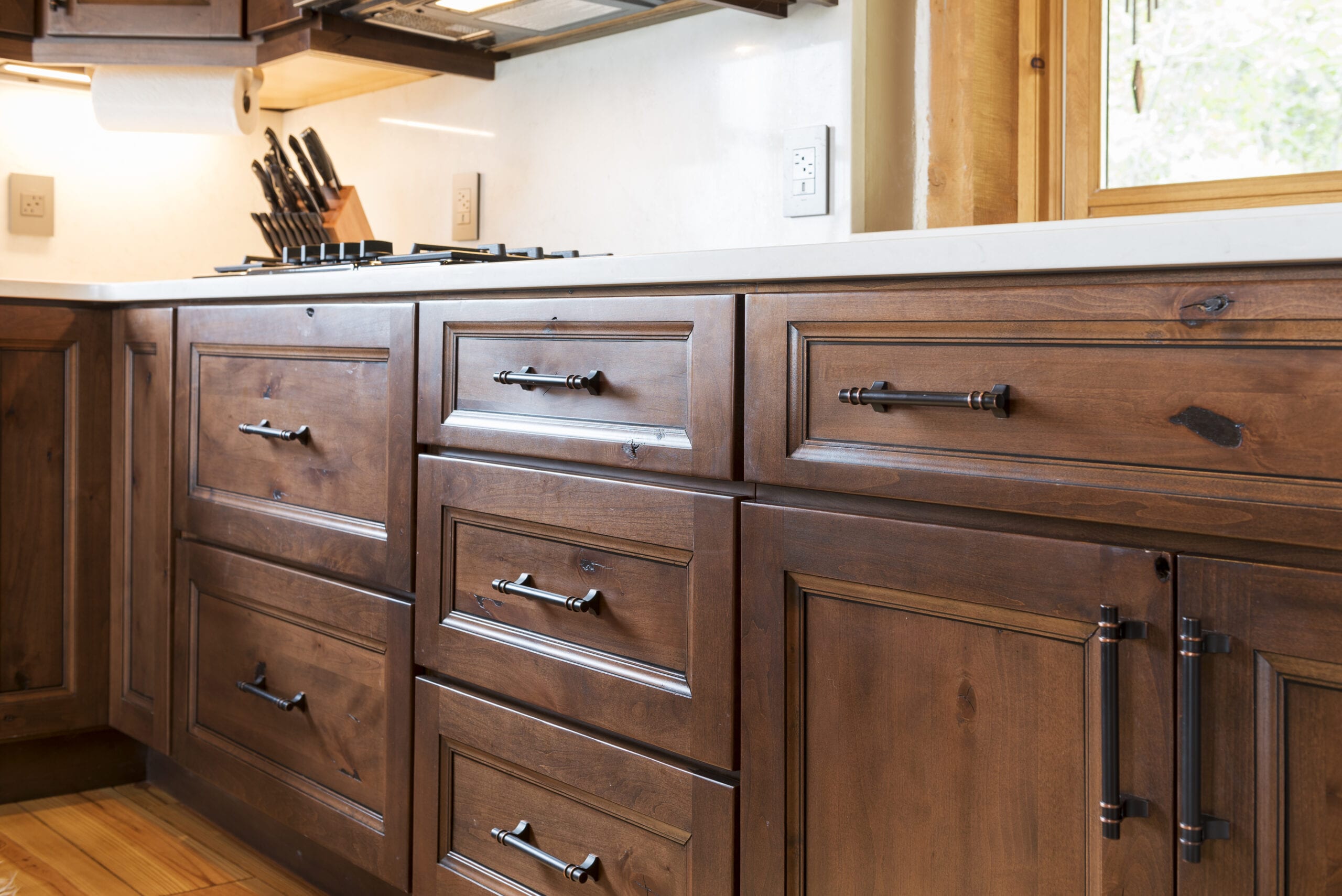 2. Consider durability.
Let's face it—cabinet hardware gets a lot of use (and potentially abuse). To meet this rigorous demand, it must be durable in material, color and design. In this way, form and function need to work together in your cabinet hardware choices.
For example, while you might like the clean look of white wooden knobs to match your white wooden cabinets, they might not be the best option if you have young children. Instead, select a material and color that can withstand being touched frequently with sticky/dirty hands, like copper, brass or metal-plated pulls or knobs in darker, more forgiving tones.
It's also important to know which form of cabinet hardware—knobs, pulls, and latches—will last the longest in your renovated room. Knobs tend to come loose more easily than pulls, which distribute the force of opening cabinets and drawers across a wider area. Pulls and handles have become popular choices in today's home designs because they look current and give cabinets and drawers a sturdier feel. While latches are a quaint option commonly seen in modern farmhouse looks, they can be impractical on all your cabinets – working a latch each time you want a plate gets old, and the likelihood of a latch breaking increases the more it's used; instead, save latches for rarely used cabinets so they serve more for form than function.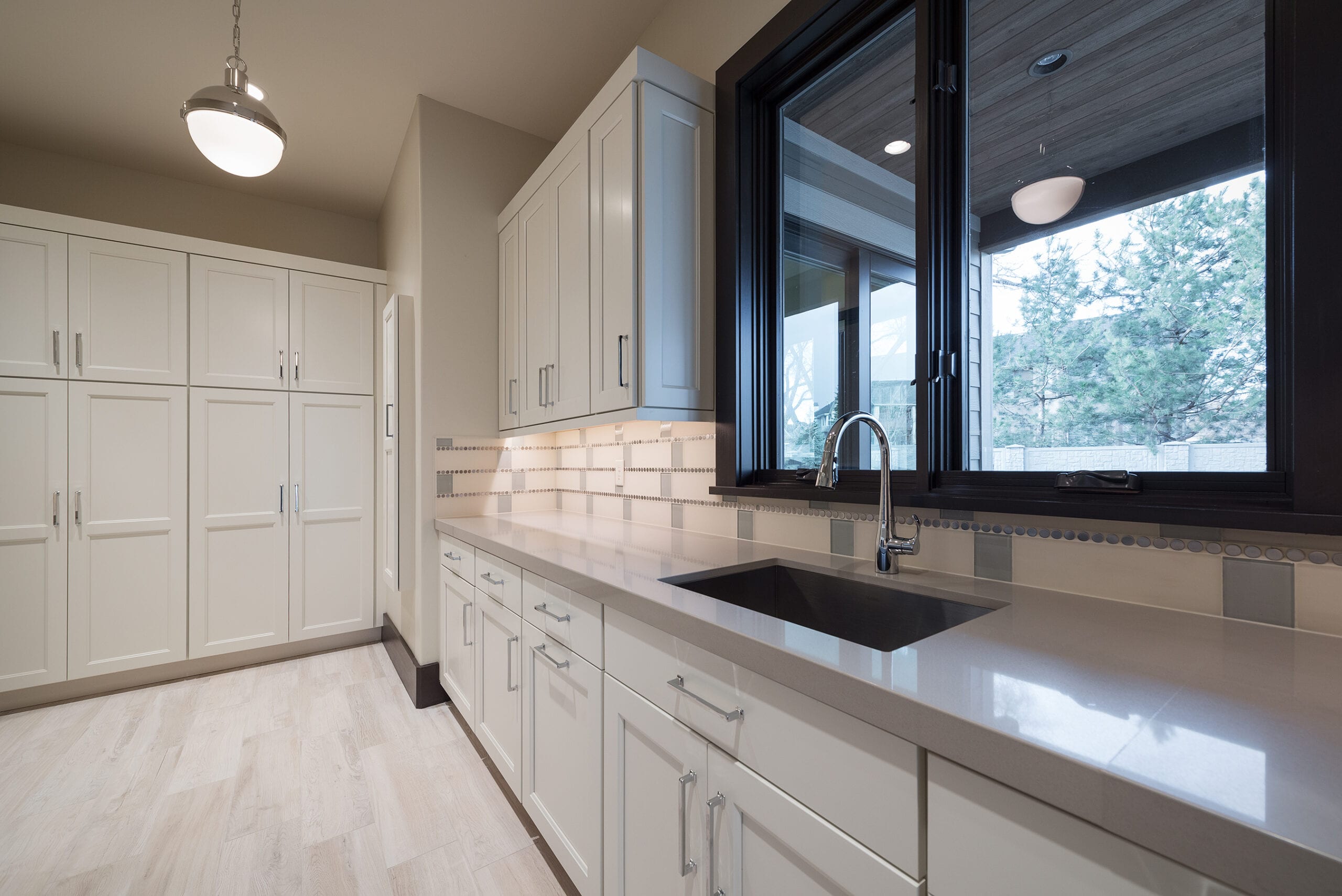 3. Match hardware to the style of the room.
 Hardware choices can really add character to your room design. The trick is knowing which hardware styles will enhance rather than detract from the look you want to create.
When making these decisions, think about the vibe of the room and whether the hardware matches that vibe. For example, if you're going for a modern look, oversized drawer pulls that range from 6 to 21 inches long lend a minimalist feel to the room that aligns with the modern sensibility. These longer pulls can be used vertically for tall cabinets and horizontally for large drawers.
As for finishes, matte black – an updated take on dark finishes – works for classic and retro styles, while metallics like gold and copper add warmth to country and rustic looks.
Selecting your cabinet hardware during a home renovation doesn't have to be a difficult or stressful process. If you go with contrast, consider durability, and match the hardware to the style of the room, you'll be set up to choose hardware that harmonizes with all of your other home remodeling decisions.