From chartreuse to avocado to teal, green is a trending color in today's kitchen design.
Green is a great hue to incorporate into your kitchen design because it can evoke many positive emotions, including a sense of peace, calm, happiness and wellbeing. One of the reasons for this is that green mimics the tones you would see outside in nature – and human beings crave a connection with nature in their everyday lives. It only makes sense to add this color to a room you visit as often as your kitchen.
Still, no matter how much you love green, you want the color to enhance the room without making it look garish. How do you achieve the right balance?
The professional design team at Chris & Dick's handled this question countless times over the 60+ years our firm has been in business. From their deep well of experience, they offer the following tips on adding shades of green to your kitchen design.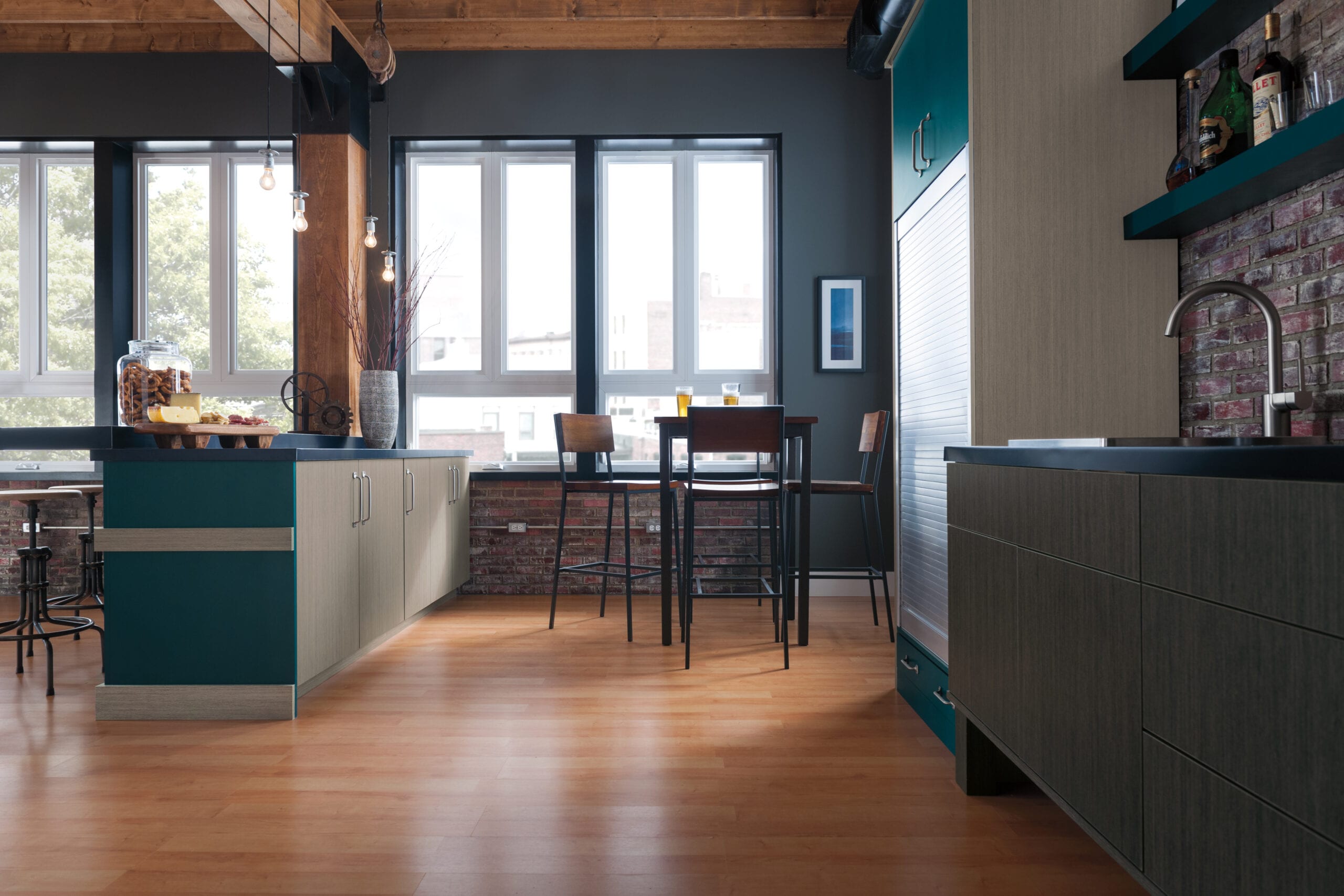 1. Play with green in your cabinets.
Whether you decide to go bold with Kelly green or subtle with a sage hue, colorful cabinets are one of the latest kitchen trends. Green cabinets create a harmonious look since the shade matches nicely with the browns, greys and taupes in today's hardwood or vinyl plank flooring and neutral-toned walls and countertops.
You can achieve different effects with green cabinets by changing up the hardware. For example, if your cabinets are dark green, brass or wooden drawer pulls lend warmth. Lighter shades like grey-green or lime look fresh with silver-toned, black or white hardware.
And remember: adding just a few green cabinets while leaving the rest neutral is a more subdued, two-toned approach that will still give the room a pop of color and character.
2. Install a green island.
Speaking of pops of color, your kitchen island is a great place to add green. While your countertops should be mostly neutral-toned so as not to overpower the room, your island cabinets can reflect your personal sense of style and fun. Why not do that by installing an island in your favorite shade of green, whether it's pale cool green, forest, or something in between?
If an entire green island is bolder than you'd like, you can always just accent the ends or even just the drawer facings. Pair it with granite countertops that have green veins and colorings to emphasize the color without overdoing it.
3. Consider a green accent wall or alcove.
A wall or corner of the room is one of the best places in your kitchen to introduce green. This use of color lends dimension and interest to a room without overwhelming it – and it is also very much in vogue in today's kitchen designs.
A bright fern or jungle green accent wall or alcove will really stand out against white or cream walls and cabinets, whereas paler shades such as artichoke or honeydew are more relaxing. Choose a shade that complements the colors of other elements in the room, such as seating, lighting fixtures, bowls or artwork.
If an accent wall or alcove isn't feasible, consider adding green in your backsplash or trim for another way to incorporate this color into your kitchen.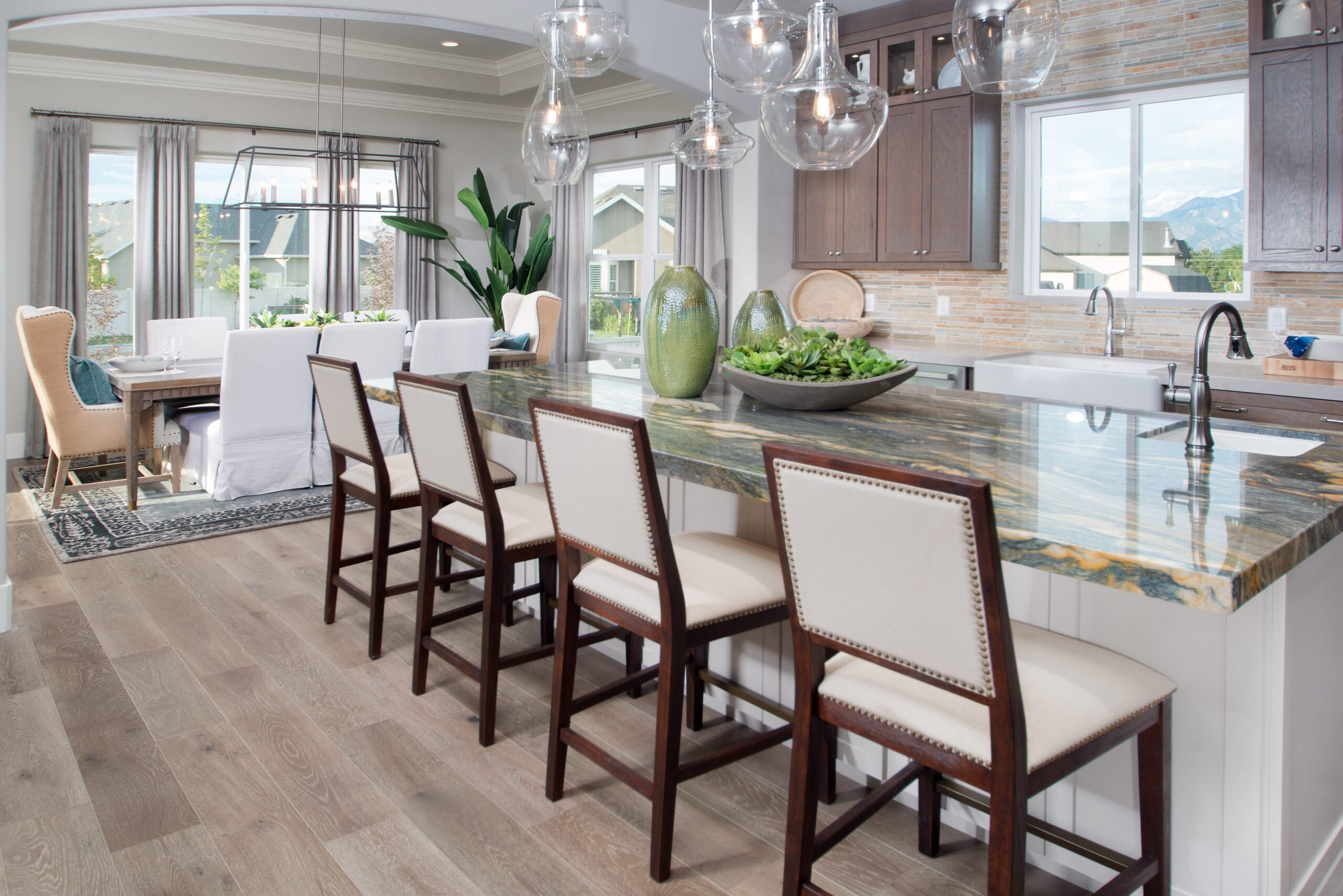 4. Think living things.
Before committing to any of the above suggestions, you can "audition" green in your kitchen by adding plants.
A large potted ficus, herb garden, or hanging plant is a nice way to bring the outdoors in and incorporate some of nature's green into your kitchen design.
Be sure the places you add greenery allow the appropriate amount of sunlight to reach the plants, and keep up with food and watering to ensure they remain healthy.
Don't have a green thumb? Silk plants can look just as beautiful in your kitchen without any upkeep.
Green is a gorgeous color to integrate into your kitchen remodel. By playing with green cabinets, installing a green island, adding a green accent wall or alcove, and including some plant life, you can incorporate green into a kitchen design you'll love for many years.