One of the first things everyone notices about a kitchen or bathroom remodel is the color palette. In fact, a simple color change can alter the entire look of a room.
Color heavily influences our perceptions about a space and can even affect our mood, so it's important when completing a kitchen or bathroom remodel to choose colors that best enhance the room and have the impact you intend.
But how can you be sure you're making the right color decisions?
Since Chris & Dick's has been around for more than 60 years and has seen home color trends come and go, our team of design professionals knows a lot about helping people choose colors for a home renovation. Here they offer tips for picking the right colors for your kitchen or bathroom remodel.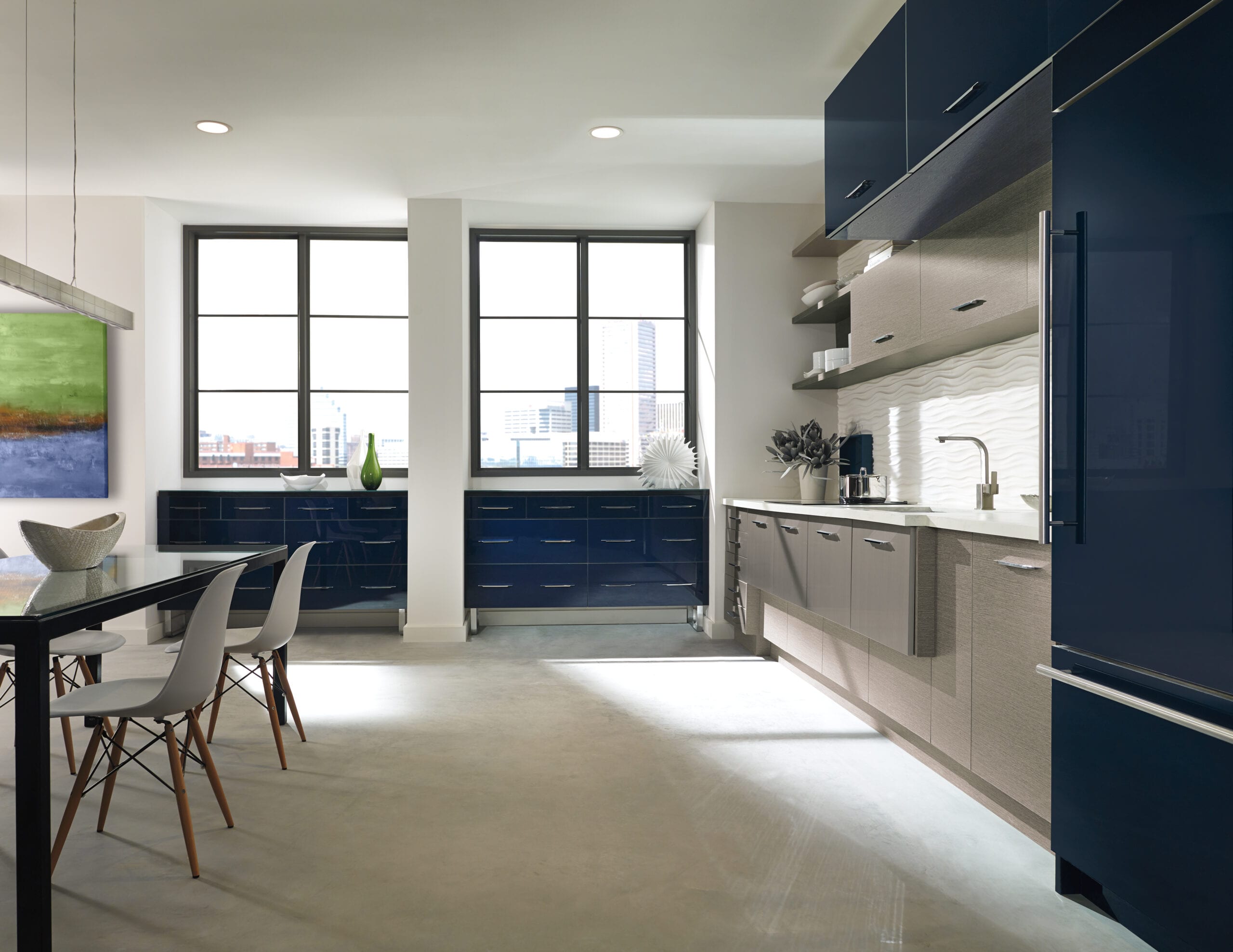 1. Don't be afraid to go bold with your cabinets…
It may sound counterintuitive to place assertive tones in two of the most-used rooms of the home, but bold-hued cabinets can work really well in kitchens and bathrooms.
Cabinets in dark or saturated shades serve as pops of color that truly liven up a neutral-toned room and give it extra character. Be bold – your kitchen or bathroom may be the perfect place for navy blue or forest green cabinets or, you can even mix and match by going the two-toned route.
If you prefer a more conservative look with white or neutral cabinets, you can always use more robust tones in other elements of the room. Black cabinets in a white or cream room also make a dramatic statement, but be aware that you will need to be more diligent about keeping dust in check.
2. …but not necessarily with your countertops.
When choosing a countertop color, our designers say it's best to opt for neutral shades because they're much more versatile than bright hues. After all, you'll likely be living with your countertop color choices for many years – let's be real, how long will your love for a purple hued counter last? If you want to change up your room's color palette some time down the road, a neutral-hued countertop won't limit your options.
Neutral shades range from the brightest white to black – and all of these tones can serve as the perfect backdrop to your cabinet and wall color choices. Black or dark grey countertops contrast beautifully with almost any color in the rainbow and are very much in vogue these days.
Quartz, granite, and marble are the most popular materials for countertops today, and they are generally all neutral in color. Many of these materials feature interesting markings and striations that lend additional color making them even more unique.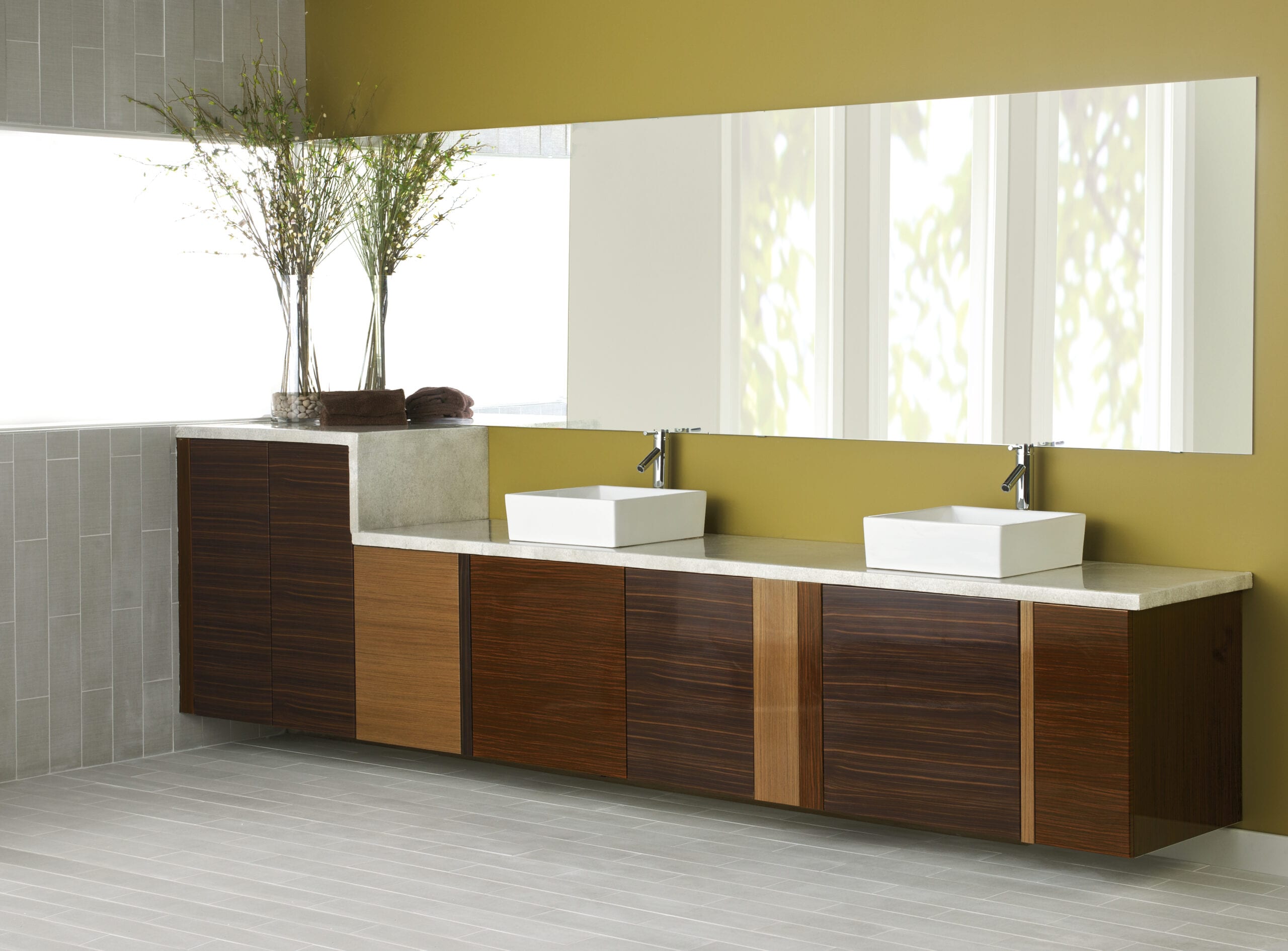 3. Let the walls be your canvas.
Believe it or not, kitchen and bathroom walls can be just about any color you want them to be if paired appropriately with your cabinets, countertops, and other colors in the room.
Light-toned neutral walls are perfect for showing off beautiful cabinetry, where you can get more creative with pops of color as mentioned above. They also let well-chosen countertops, appliances, and lighting fixtures shine without competing against a gorgeous backsplash.
On the other hand, brightly colored painted or wallpapered walls can be a fun and refreshing addition to your home if your cabinets are a neutral shade. Keep in mind that most kitchen and bathroom walls are broken up by appliances, windows, furnishings, and accent pieces, so you are not likely to have a big empty wall with a color that's too vivid, which could be jarring. Instead, these colors serve as borders and complements to the other elements of the room.
Also remember that a space painted in a lighter color will look and feel larger than the same space in a more saturated tone, while you can make a spacious room feel cozier by choosing a stronger shade of paint or wallpaper. Additionally, the amount of light in the room – both natural and artificial – will impact how big or small the room feels.
4. Pay attention to the experts … and yourself.
Experienced home design professionals can be extremely helpful when making color choices for a kitchen or bathroom remodel and helping you discover your own tastes and preferences.
Chris & Dick's seasoned design team is deeply experienced in giving color advice, so you'll get an unbiased opinion and some expert guidance to help you pick the perfect colors for your remodel. They also understand that you are the ultimate decisionmaker in your home design choices, and they will encourage you to choose colors you love.
Do you adore red, have a passion for midnight blue, or swoon over sunflower yellow? Allow that passion to inform your color choices, and let your own sense of style lead the way.
While choosing colors for a kitchen or bathroom remodel can seem daunting, there are ways to make the process more fun and less intimidating. By daring to go bold with cabinets, keeping countertops neutral, letting the walls be your canvas, and seeking some expert guidance while letting your own style shine through, you can choose colors that you will love long after your renovation project is complete.