Trying to decide which colors to use in your kitchen remodel? Why not consider white and grey? This duo is one of the freshest, most versatile, and bold new kitchen color combinations that's currently trending.
Since they're both neutrals, the combo of white and grey adds a modern touch to any kitchen. As we know, there are many shades of grey, and when your favorite shade is paired with white, this color palette provides the perfect backdrop to your own sense of style.
The grey-and-white trend has been years in the making – after helping countless customers design their dream kitchens with this dynamic duo, Chris & Dick's seasoned designers are excited to share their ideas, tips and tricks on how to use this color pairing to create the kitchen remodel of your dreams.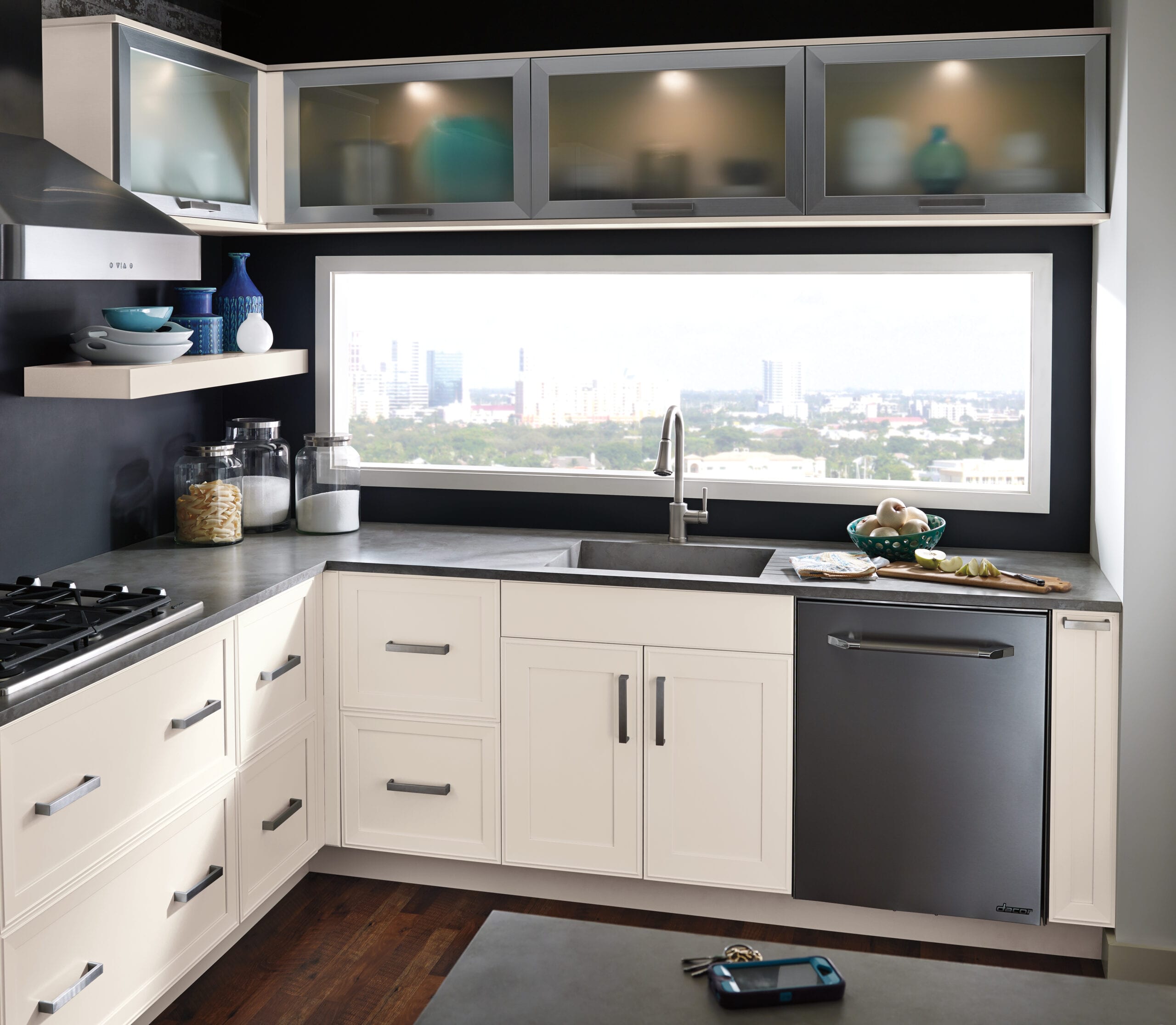 1. Choose a quartz countertop.
White countertops and grey countertops are trending the most right now, especially in the veined quartz look. In fact, quartz is the most in-demand material for countertops today due to its rich look and durability.
One of the most interesting aspects of quartz is the different colors that appear in the stone's striations. You can easily replicate one or more of these colors in a backsplash, accent wall or accessories for a pulled-together look that really pops.
When opting for quartz, have a plan in place to keep this surface clean and unmarred: wipe up spills as soon as possible and protect the stone with an appropriate gentle cleaner, used regularly.
2. Combine grey cabinets with a white room.
Pairing a white room with grey cabinets is a great way to use these neutrals together in an eye-catching kitchen design.
Charcoal cabinets with white walls and a light-grey countertop make for a combination that's new and exciting. Other great shades for cabinets are steel, blue-grey, green-grey and slate-grey.
Extra visual interest can come in the form of whimsical drawer pulls, cabinets with glass doors, or a mosaic-tile backsplash.
3. Pump up the volume with pops of color.
Color pops add eye appeal to any kitchen, no less a grey and white one.
Neutral combos like this one cry out for pops of color such as red trim, a vase of purple lilacs, or sunny yellow chairs or barstools.
Strategically place pops of color judiciously throughout the room to complement the grey and white tones that dominate rather than compete with them. The result is warm, inviting, and pleasing to the eye.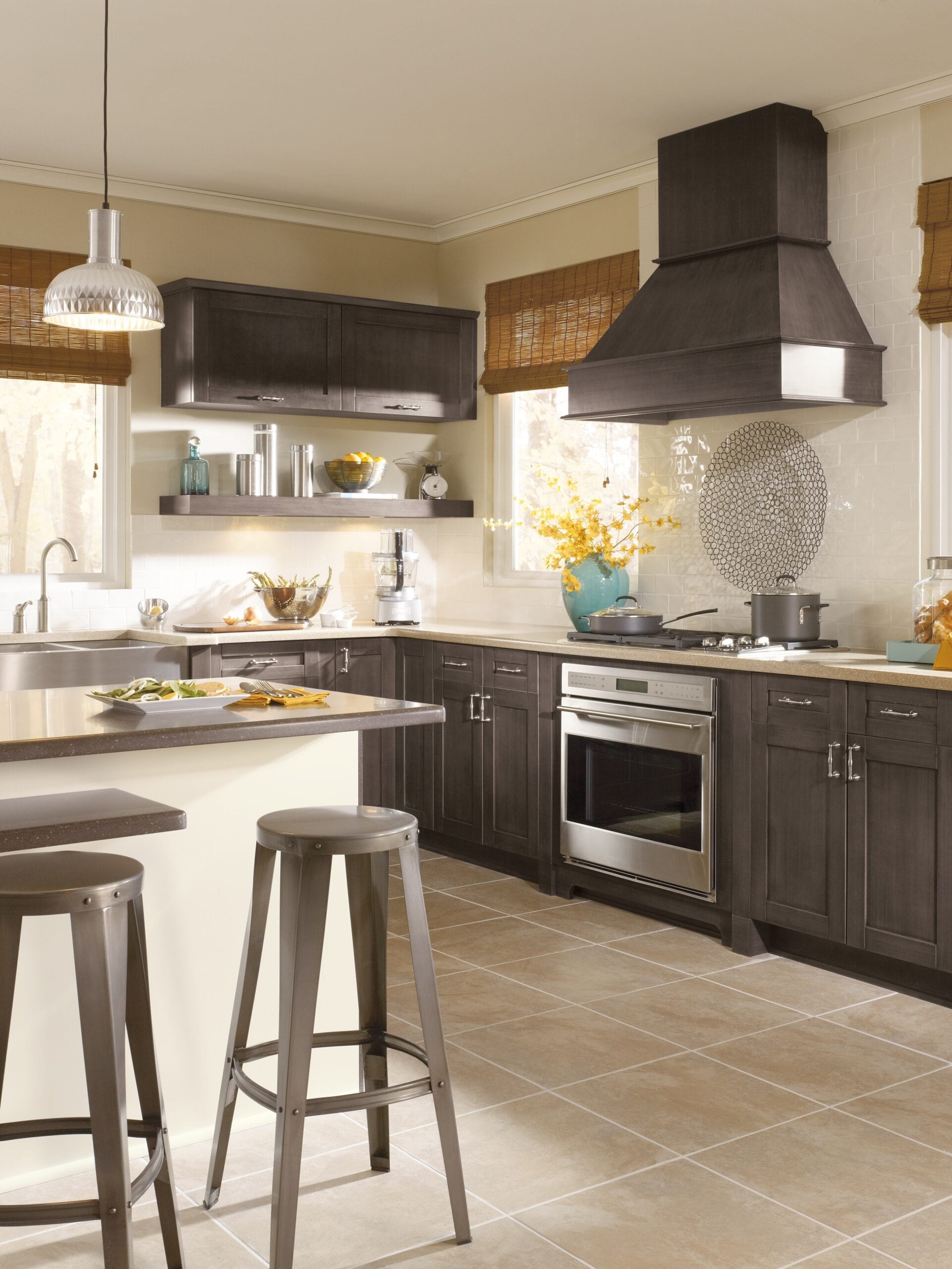 4. Accent with metal.
Metals work spectacularly with grey and white, deepening these neutral shades. While silver is a natural metallic accompaniment to these colors, gold and bronze add warmth and depth to a grey and white kitchen design as well.
From stainless-steel sinks to gold cabinet handles to bronze-fronted appliances, you can introduce metals to your grey and white kitchen design in so many ways. It's a great method for adding a new dimension to your remodel, one that can be personalized to your own signature style.
White and grey is the emerging color combo for kitchens this year, and it's easy to incorporate into your kitchen remodel. By choosing a quartz countertop, combining grey cabinets with a white room, adding pops of color and accenting with metals, you can achieve a dream kitchen redesign that hits all the right notes.