One of the most exciting things about January is planning new projects or "refreshes" for your home – especially the kitchen, the most-used room in your house. For inspiration on this journey, a great place to start is with the top kitchen design trends for the new year.
While many kitchen design trends carry over from the end of one year to the beginning of the next, each new year presents an opportunity for out-of-the-box twists on an enduring trend as well as some fresh trends we haven't seen before. Knowing what these trends are helps us plan a space that is both current and unique to your specific needs and tastes.
Our team of professional designers at Chris & Dick's are privy to the hottest new home décor trends to take the stage every year. Given their knowledge and expertise in this arena, we've assembled the following five trends to help jumpstart your kitchen design projects for 2021.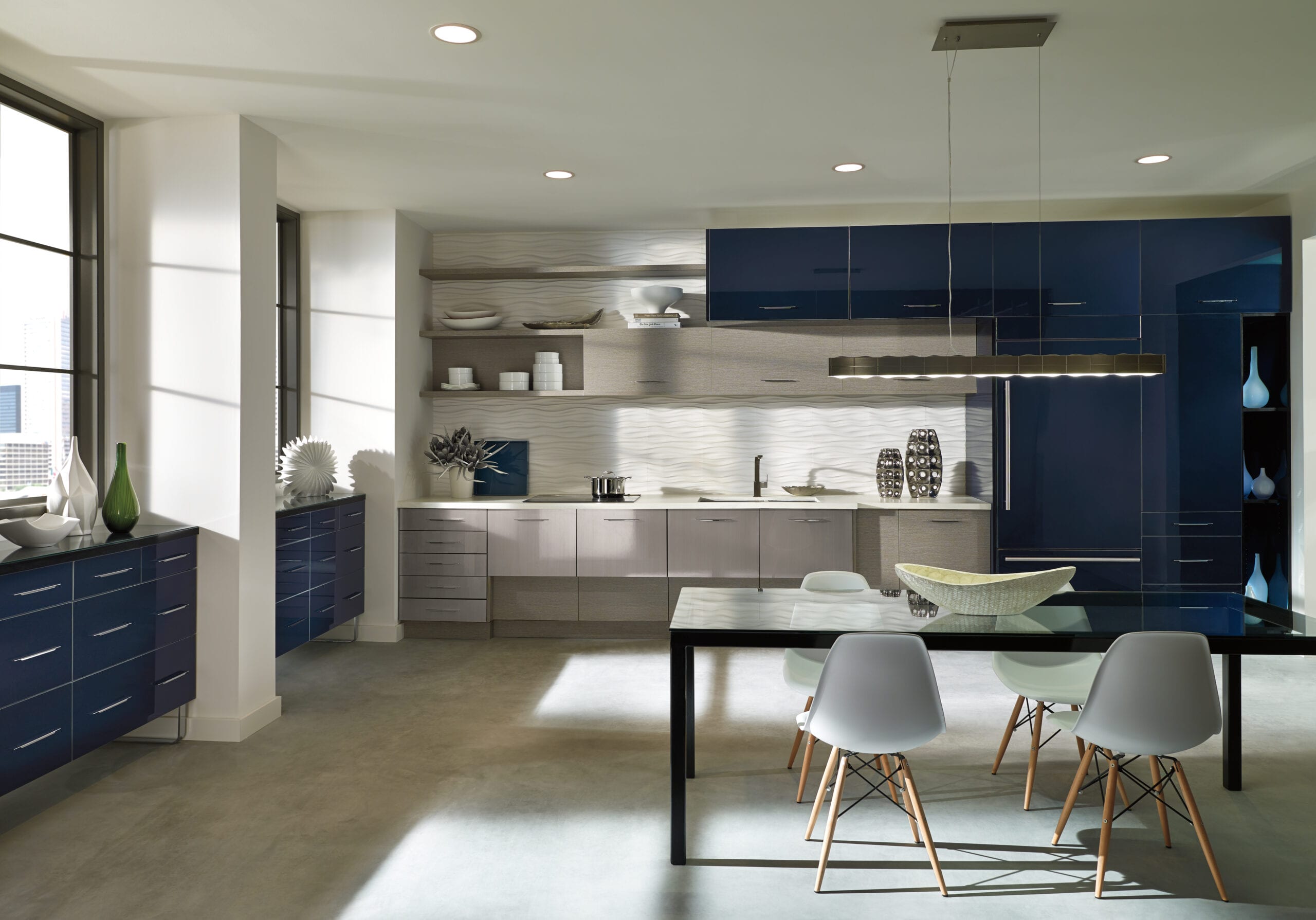 1. White and grey countertops
Whatever other color choices you make for your kitchen, white and grey will go with just about any of them. These two neutral tones are perfect for countertops, one of the "anchors" of your kitchen décor.
A veined marble countertop look incorporates both white and grey and is an especially popular trend for 2021. While marble is one of the most desired countertop looks, it is also one of the priciest materials. The white and grey veined look can be found in more budget-friendly materials such as quartz and granite, which can be easier to clean as well.
Remember that with neutrals like white and grey, you can always add pops of color via paint, trim, and accessories that really punch up the look of your kitchen and give it a fresh new ambiance.
2. Open shelving
This year's kitchens will have a major emphasis on open shelving. This trend follows the "farmhouse living" style that has been growing in popularity recently.
While open shelving presents an easy new way to show off dishes and serveware and make them more accessible for everyday use, keep in mind that anything that's kept out in the open will get dirty faster and need to be cleaned more frequently than items kept in cabinets.
A good solution is to install one or two open shelves in your kitchen, while keeping the bulk of your dishes behind cabinet doors. If you really want to show off your dinnerware or serveware, you can always replace solid wood cabinet doors with transparent glass ones to achieve virtually the same effect as you would with open shelving.
3. Sustainable elements
By now, it's clear that sustainability is more than a trend – in fact, demand for green products and practices extends to almost every area of our lives, including kitchen décor.
Fortunately, manufacturers are meeting this demand by providing a variety of options for making kitchens more earth-friendly and environmentally sound. And, many of these sustainably sourced products and materials are also beautiful, affordable, and easy to find.
Options include terracotta floor tiles, reclaimed wood finishes, zero-VOC paint, and even countertops and cabinets made of recycled materials. This year, consider incorporating a few of these items into your kitchen projects as your design aesthetic and budget dictate. That way, in addition to composting, reverse-osmosis tap water filtering, and LED lighting, you can do even more to go green in your kitchen in the new year.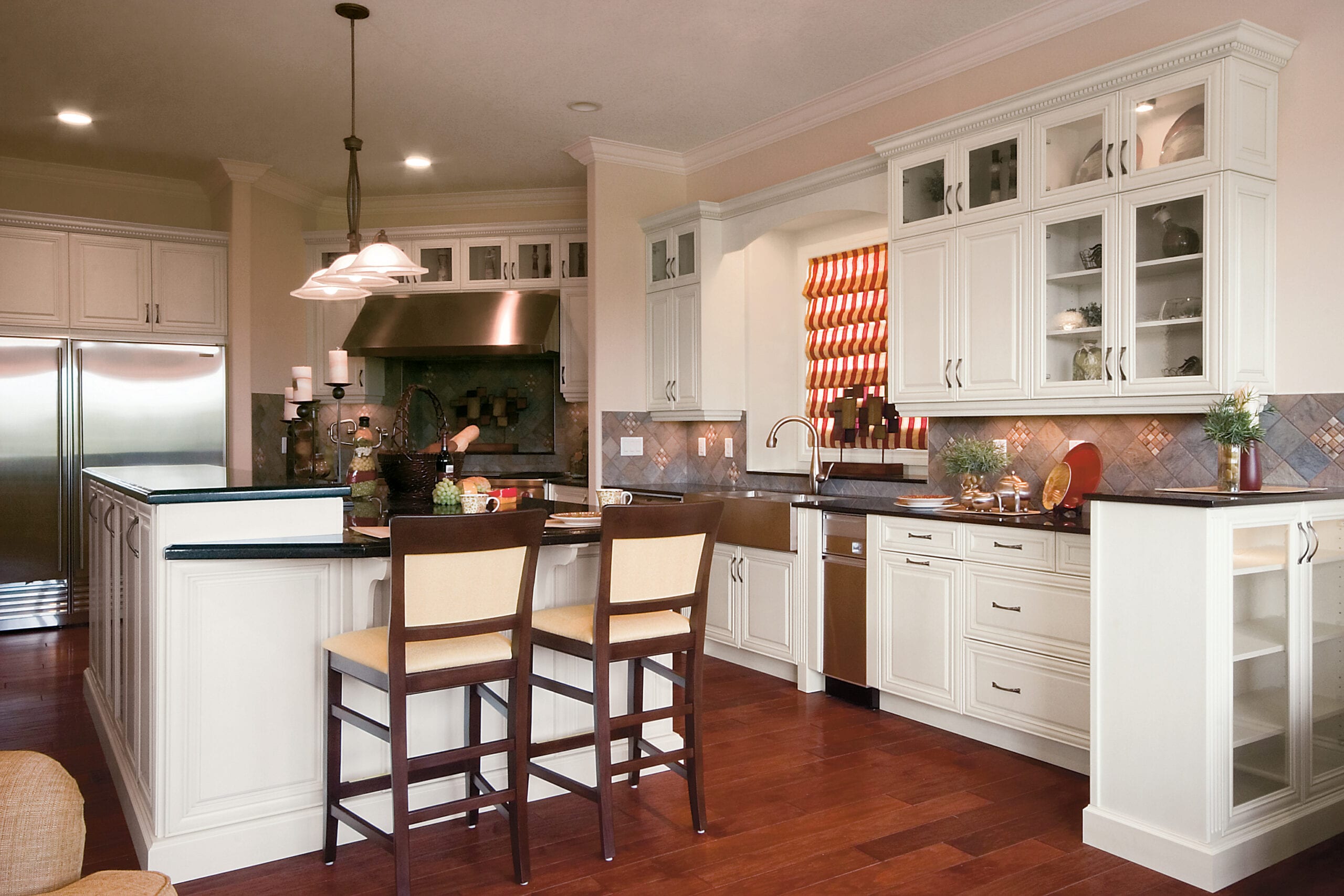 4. New color plays—and black, too
Almost anything goes regarding color in this year's kitchens. From bright shades to color pops to the hottest new paint color, the sky's the limit.
In fact, even black is in style, in the form of appliances, trim, and cabinet/drawer pulls that make everything in your kitchen look sharp and fresh.
Try painting your kitchen island in a vibrant red or green, adding a pop of fuchsia as an accent wall, or installing a mixed-color backsplash to really make a statement. A fun pattern that introduces a new color to your kitchen can work in many places throughout the room, including the range hood, countertop edge or threshold. Let your imagination soar and you'll no doubt come up with all sorts of creative ideas.
5. Hidden appliances and show-off pantries
Now you see it, now you don't.
A new trend is to hide appliances like refrigerators, dishwashers, and oven hoods behind finishes that match kitchen cabinets. The result is a clean and seamless look. In the case of a range or oven hood, a coordinated finish can also serve as an accent against a wall color.
Meanwhile, pantries – an often-forgotten part of kitchen décor – are being shown off behind pretty, brightly colored doors and archways. Attractive light fixtures and accessories like ornate step stools and decorative baskets are part of the mix for celebrating this kitchen workhorse.
Before you begin your kitchen redesign project for 2021, consider several kitchen design trends that are emerging this year. Incorporating white and grey countertops, open shelving, sustainable elements, new ways to play with color, and hidden appliances and show-off pantries are a few of the ways to refresh your kitchen's look and make it sing in the new year.