It's a common dilemma: You want (or maybe need) a kitchen or bathroom remodel, but you're on a limited budget. How can you achieve a fabulous new look without breaking the bank?
While it's easy to blow all your money on state-of-the-art appliances or other pricey elements, there are less costly ways to complete a kitchen or bathroom remodel while attaining the results you want. It's a matter of knowing where to spend and where to save so that in the end, you remain within your budget and are thrilled with your redesign.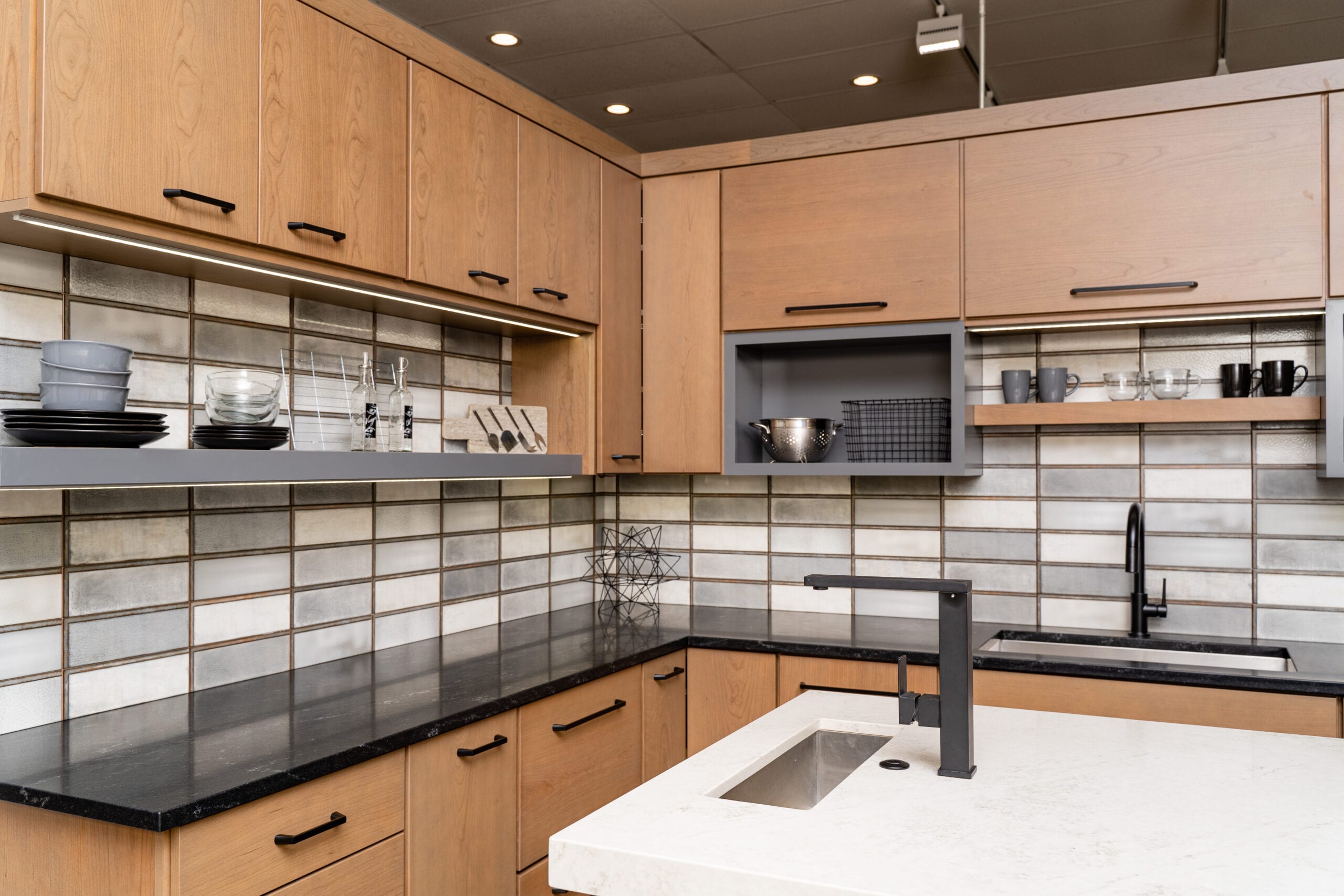 For years, Chris & Dick's has been helping people remodel their living spaces in a way that is both cost conscious and inspired. Our seasoned team of professional designers know how to steer customers in the right direction to create rooms they love without overspending. Here are some tips we've learned for saving money while redesigning a kitchen or bathroom.
1. Use color wisely.
Nothing punches up the look of a room more dramatically than a color change.
Color can be switched up easily and economically with a coat of paint or even wallpaper, which is back in style. Try a dramatic paint shade like bright yellow, navy blue or even bold red combined with patterned wallpaper for opulent flair.
In addition to a complete paint or wallpaper redo, remember that pops of color add great eye appeal and can do a lot to shift the ambiance of a kitchen or bathroom for a small investment. Soft greens or blues are very "in" in this year, so molding or an accent wall in these shades looks modern and fresh. Place a vase, decorative bowl or photo frame in these colors in a visible spot for more quick, inexpensive ways to update a kitchen or bath.
2. Focus on the finish.
In the end, what makes an impact is the finish of your décor.
Rather than going overbudget on designer appliances, buy good-quality, reasonably priced equipment that provides exactly the features you need and will use (do your research), and add luxe finishes like the inherently intriguing natural striations of a quartz countertop or the compellingly dramatic exterior of dark wood cabinets.
These materials will have a significant impact on your room's overall look, and you'll have invested wisely in appliances that will ideally last you until it's time for your next big remodel.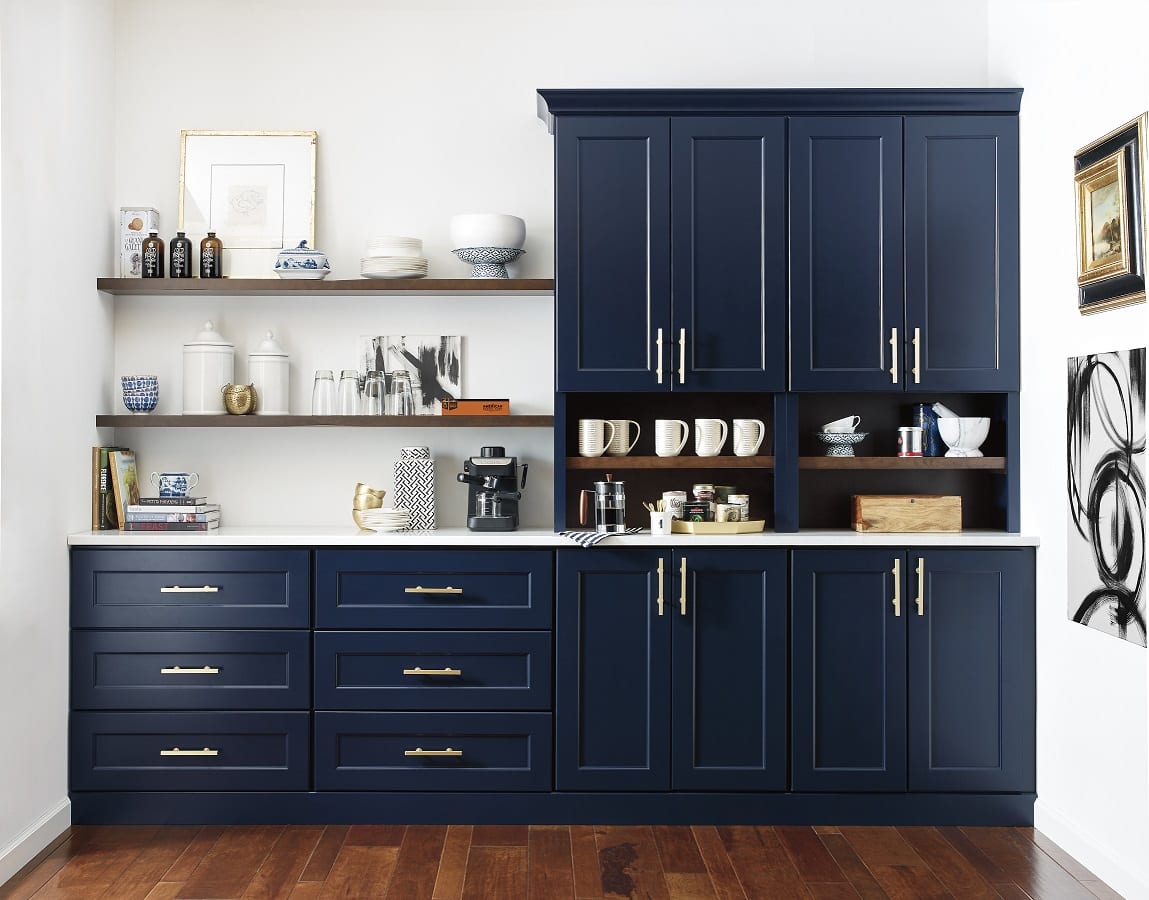 3. Add texture.
Incorporating a variety of textures into your kitchen or bathroom décor will add visual appeal and create an appearance of richness without the need for a major spend. You'll also be able to create a unique look that expresses your personal style.
When choosing specific textures, opt for less-expensive materials that still deliver big impact, such as quartz or granite instead of marble for your countertops, linoleum tiles instead of stone for flooring, or reclaimed wood instead of new wood for cabinets or trim.
As you mix textures, you can add in small amounts of pricier elements, such as a silk throw, marble soap dispenser, or copper drawer pulls, for an effect of opulence that's still affordable. Play with different textures to achieve your perfect design, your way.
4. Apply sustainability principles.
Going green, which is good for the environment and saves money, now refers to an increasingly broader spectrum of residential living. Beyond energy-saving appliances and utility systems, environmentally responsible materials are being introduced into residential décor.
For example, while hardwood floors are all the rage, reclaimed hardwood is ecologically sound and can be acquired for a fraction of the cost of new hardwood. In fact, reclaimed hardwood flooring can cost up to 50% less than some types of traditional hardwood flooring.
Another sustainability principle is to use natural lighting to help with heating and cooling costs. Light-colored wall and window treatments let in more daylight to keep rooms warmer and brighter and reduce the use of heating and artificial lights during cold months, while darker colors cool off spaces and lower the need for air conditioning in the summer.
Think of what you spend the most money on in utilities and apply these energy-saving principles to your remodel to get the most bang for your buck.
Executing a kitchen or bathroom remodel can be a costly endeavor if you don't know where to spend and where to save. By following the tricks and tips of using color wisely, focusing on the finish, adding texture, and applying sustainability principles to your renovation project, you can accomplish a redesign that is both budget friendly and beautiful.